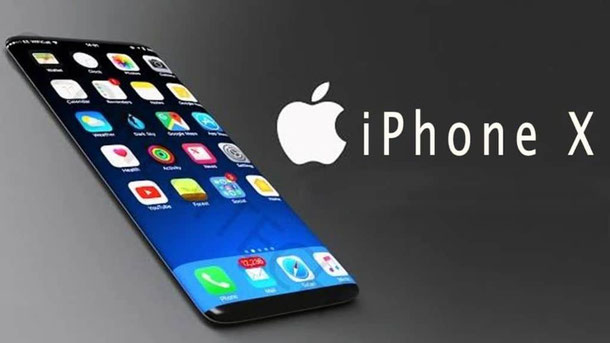 Apple launched its new iPhone X at the beginning of November 2017. Customers of the predecessor iPhone 8 were rather reluctant to buy. When it comes to the iPhone X things seem to be back to "normal". Queues and campsites formed in front of Apple stores. As a value investor and asset manager, the question I am interested in is: Are Apple's shares undervalued at the current price? To find out, I have analysed financial statements of the past ten years and Apple's business model.
---
Apple is now the world's most valuable company in terms of market capitalisation. Its market capitalisation amounts to over 919 billion USD. This means that Apple is currently more valuable than other heavyweights such as Google (732 billion), Microsoft (655 billion) and Amazon (552 billion).
It is therefore all the more astonishing that the stock is not underpriced, but not as expensive as some of its competitors. Apple's figures are convincing in several areas. The company has a high level of liquidity. In addition, it shows a high net margin for the past ten years. The return on equity and the cash flows are also impressive. Nevertheless, there are some risks to consider with Apple shares.
As I wrote in my earlier article "How to make money with stocks", you should do your own research before every investment. As an alternative, you can also delegate them to an expert. My analysis should therefore not be understood as a recommendation to buy, sell or hold the stock.
---
The price of Apple shares has risen from 104.09 USD to 174.67 USD in the last 12 months. This corresponds to a price increase of more than 66.5%. Over the last ten years, the increase in value has been over 619% from USD 24.28 on November 13th 2007 to the present day. This equals an average annual growth rate of 21.8%.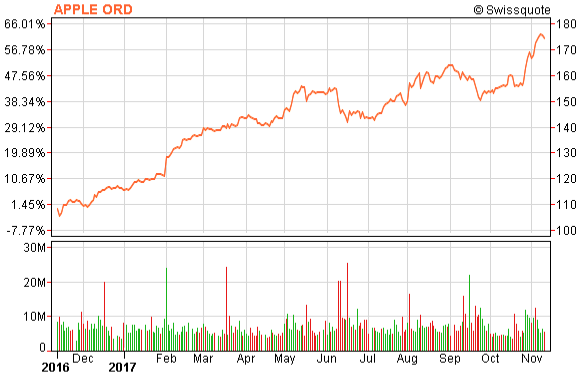 ---
Before considering to buy a share of a company, it is important to define what a successful company is made of. One tool I like to use are the Michael E. Porter's five forces:
Industry rivalry
There is strong competition in both the hardware and software business. However, Apple has so far managed to compete impressively in this market environment.


Threat of new entrants
Especially in the smartphone business there are always new suppliers trying to gain market shares. Examples such as Nokia and Blackberry have impressively demonstrated how fast-moving this business is. Apple has also been able to establish itself successfully. Nevertheless, the constant pressure to innovate remains a risk for companies like Apple.


Bargaining power of suppliers
Apple requires hardware suppliers to build their iPhones, tablets, etc. However, there is strong competition among suppliers. This benefits Apple in price negotiations with suppliers.


Bargaining power of customers
Apple has often succeeded in demanding high prices and thus achieving high margins. The iPhone X has a record gross profit margin of 64%. The predecessor model iPhone 8 also already came at a high 59%. In addition, there is a broad product portfolio of devices that communicate perfectly amongst each other.


Threat of substitutes
Apple offers many products in both the software and hardware segments that are also offered by competitors. Nevertheless, Apple has succeeded in building a loyal customers base. Many people find it unpleasant to have to get used to a new system. This helps Apple which already has a strong brand that is appreciated by customers. Nevertheless, there is still a risk that customers may switch to competing products.
Apple has a very strong brand. The company's constant innovative power has ensured that Apple has been able to hold stand its ground in a highly competitive environment. The company was also able to use its brand and market power to keep production prices low and defend high margins.
Nevertheless, Apple must continually innovate to keep customers happy. This costs money in research and development as well as in marketing. To this end, there is still the risk of other innovative providers trying to take some of Apples market share. However, the high liquidity and market capitalization can help to defend against competitors in the near future.
As the share price is the price you have to pay to become the owner of a part of Apple, I would like to look into what you get in return.
Apple has grown steadily over the past decade. Earnings per share increased in eight out of ten years. The book value even increased in ten out of ten years.
From the perspective of a Value Investor, Apple is at best fairly valued, but no longer undervalued. However, if you compare Apple with Google, Microsoft and Amazon, you will realise that their valuations are even higher.
The P/E Ratio gives a first indication of how much profit can be expected for the price paid. Apple is currently earning USD 9.21 per share. At the current price of 176.24 USD, this corresponds to a P/E Ratio of approximately 19.
A P/E Ratio of 15 and lower would be more favourable in this industry. A P/E Ratio of 25 or higher on the other hand would be rather expensive. Thus Apple is not cheap with reference to the P/E Ratio, but it is also not massively overpriced. For comparison, I would like to provide you with a small table showing P/E Ratios of some competitors:
| | |
| --- | --- |
| Companies | P/E Ratio    |
| Google |  35 |
| Microsoft | 28 |
| Amazon | 285 |
| Samsung Electronics | 13 |
The P/B Ratio provides an indication of which margin of safety you get for the price paid. The book value per share is currently 26.11 USD. That is, for each share you own, you own 26.11 USD of Apple's equity. At a price of 176.24 USD, this is the equivalent of a P/B Ratio of 6.74.
This is not cheap, because you have to pay 6.74 USD for every USD you receive. A P/B Ratio of 1.5 or lower would be very favourable. At the moment, there are only a few companies with a high market capitalisation that can be bought for such a low P/B Ratio.
| | |
| --- | --- |
| Companies | P/B Ratio  |
| Google |  4.62 |
| Microsoft | 7.22 |
| Amazon |  22 |
| Samsung Electronics |  2.14 |
When a company with a P/E 15 and lower and a P/B ratio of 1.5 and lower has a favourable valuation, one may combine these two values by multiplying them. This results in a combined P/E x P/B Ratio of 22.5.
For Apple this ratio would amount to 128.06 (P/E 19 x P/B 6.74). In the table below you will find this combined figure of Google, Microsoft, Amazon and Samsung Electronics for comparison purposes:
| | |
| --- | --- |
| Companies | P/E x P/B |
| Google |  161.70 |
| Microsoft | 202.16 |
| Amazon |  6270.00 |
| Samsung Electronics |  27.82 |
The P/E ratio and P/B ratio can at best be the start of a in-depth fundamental analysis. Therefore I would like to provide a few more relevant facts and figures below.
Apple has a Current Ratio of 1.28. This is slightly below the optimum, but still far from a problematic level.

The Current Ratio is the ratio between cash and cash equivalents and current liabilities. My ideal measurement is a ratio of 1.5 or higher. Meaning that a company would have 1.5 times as much cash and cash equivalents as is needed in the short term to pay off its current liabilities.
Apple has a Debt-to-Equity Ratio of 0.86. Although this is slightly higher than my ideal value, it is not a major risk due to Apple's high liquidity.
In the relationship between a company's debt and equity, a ratio of 0.5 or less is a very reasonable value. This would mean that the company has twice as much equity as its debts.
Apple shows a high return on equity of more than 36%. This means that Apple is very profitable and is generating a high return on profits, which are retained in the company.
The return on equity shows how profitable a company operates with the money retained in the company, instead of distributing it to its owners through dividend payments, for example.
The net margin of over 21% on average indicates that Apple is running a consitent and profitable business. This is partly due to the fact that Apple can defend its high prices and keep production costs low.


Net margin shows how much a company still has left after deducting all costs.
In eight out of the past ten years, Apple has increased its revenues. This indicates that the business is resistant to crises on the one hand and that demand remains high at all times on the other.
During the past ten years, book value has risen from 3.39 USD to 26.11 USD. This corresponds to an average growth rate of over 22.6%. In addition, the book value has not decreased in any one year during this period.
Operating Cash Flow
Compared to the previous two years Operating Cash Flow declined recently. Nevertheless, the Operating Cash Flow remains positive and the company earns money from its business operations.


Cash Flow From Investing Activities
A negative Cash Flow from investing activities shows that Apple continues to invest in infrastructure and strategic acquisitions to maintain and expand its ongoing business.


Cash Flow From Financing Activities
Apple paid off debts, spent money on share repurchases and paid dividends to shareholders. This resulted in a negative Cash Flow from financing activities, which, however, will benefit shareholders in the long term.
---
Opportunities:
Apple is a very profitable company, with a strong brand, a diversified product portfolio and plenty of liquidity. As long as Apple manages to defend its margins and maintain strong customer loyalty through innovation, it's only a matter of time before Apple reaches a market capitalization of one trillion USD.
Risks:
Apple is doing business in a very competitive industry, which is characterised by high pressure to innovate. In addition, the current share price is not undervalued in relation to ernings and book value per share. This means that a certain amount of growth has already been calculated into the share price. Should future growth turn out to be lower than expected or merely to meet expectations, this could lead to a correction in the share price.
I am happy to answer any questions on financial topics. If you are interested in a topic or shares of a certain company, don't hesitate to send me a short e-mail or contact me directly via the button below. I will answer your questions personally.
Don't Want to Miss the Next Blog Post?
Follow me on LinkedIn, Xing, Twitter or Facebook.
Sharing is Caring
Share with the following buttons in just a click.
Tags: Asset management, value investing, earn money with shares, P/E ratio, P/E ratio, investment strategy, income from assets, earn money, shares, return, build assets, Apple shares, P/B ratio, Cahs flow, book value, book value, sales, net margin, return on equity, gearing, liquidity ratio, Apple ratios, price earnings ratio, price-to-book ratio, Apple profitability, Porter five forces, quality Apple, Apple Performance, iPhone X, iPhone 8