---
If you look only at the dividend yield, the list of the top five dividend stocks in the Swiss Market Index (SMI) at their current price and with the dividends paid in 2017 shows the following:
Zurich Insurance Group AG 5.67%.
Swiss Reinsurance Company AG 5.22%.
Credit Suisse Group AG 4.41%.
Swisscom AG 4.35%.
UBS Group AG 3.83%.
Disclaimer
As I wrote in my earlier post "How to make money with stocks", you should do your own homework before every investment. Alternatively, this can be delegated to an expert. My analysis should not be understood as a recommendation to buy, sell or hold a stock.
---
| | | | | | |
| --- | --- | --- | --- | --- | --- |
| Yield | Company | Price* | Dividend* | Earnings* | Payout Ratio |
| 5.67% | Zurich N | 299.80 | 17.00  | 21.04 | 80.80% |
| 5.22% | Swiss Re N | 92.85 | 4.85 | 9.67 | 50.16% |
| 4.41% | Credit Suisse N | 15.88 | 0.70 | -1.27 | n/a (negativ)% |
| 4.35% | Swisscom N | 505.50 | 22.00 | 30.97 | 71.04% |
| 3.83% | UBS N | 16.98 | 0.65 | 0.84 | 77.38% |
| 3.62% | LafargeHolcim N | 55.20 | 2.00 | 2.96 | 67.57% |
| 3.56% | Roche GS | 230.10 | 8.20 | 11.13 | 73.67% |
| 3.30% | Novartis N | 83.30 | 2.75 | 2.76 | 99.64% |
| 3.28% | Swiss Life N | 335.70 | 11.00 | 27.26 | 40.35% |
| 3.25% | Adecco N | 73.95 | 2.40 | 4.62 | 51.95% |
| 3.05% | ABB N | 24.89 | 0.76 | 0.86 | 88.37% |
| 2.92% | SGS N | 2400.00 | 70.00 | 71.53 | 97.86% |
| 2.73% | Nestlé N | 84.40 | 2.30 | 2.75 | 83.64% |
| 2.47% | Givaudan N | 2269.00 | 56.00 | 69.34 | 80.76% |
| 2.36% | Geberit N | 423.80 | 10.00 | 14.85 | 67.34% |
| 2.08% | Richemont N | 86.65 | 1.80 | 2.32 | 77.59% |
| 2.03% | Julius Baer N | 59.00 | 1.20 | 2.84 | 42.25% |
| 1.87% | Swatch I | 360.70 | 6.75 | 10.68 | 63.20% |
| 1.29% | Sika I | 7420.00 | 96.00 | 221.81 | 43.28% |
| 1.12% | Lonza N | 259.90 | 2.92 | 5.27 | 55.41% |
Table abbreviations:
*in CHF per share, N = registered shares, I = bearer shares,
GS = participation certificates
---
Paying attention to the dividend yield alone can be dangerous and lead to disappointment. When looking for stocks with high dividend yields, it therefore makes sense to pay attention to other aspects as well, such as:
Profit and revenue development of the company
Sustainability of dividend payments
Price fluctuations and their causes
The payout ratio
In the sections below I will explain each of these four aspects and illustrate them with a practical example including figures.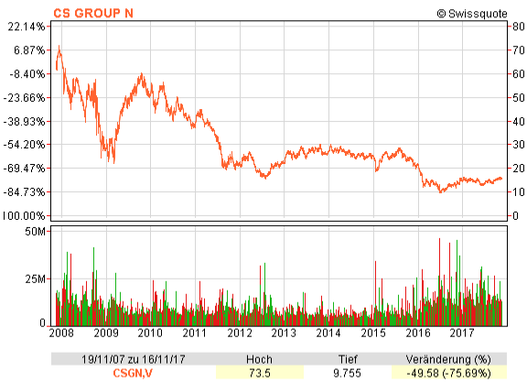 With a dividend yield of 4.41%, the Credit Suisse ranks third in the Dividend Yield Table. Nevertheless, the dividend payout was surprising.
Although a loss of CHF 1.27 per share resulted in 2016, a dividend payment of CHF 0.70 per share was made. The profit and sales development of the last ten years were unstable at best and do not support such a dividend payment.
Even though Credit Suisse could have used the capital to increase the ratio of its core capital, the company paid it to the owners. How much the bank could have used the extra cash for other purposes can also be seen in recent cost-cutting efforts through restructuring and outsourcing, in recent years.
One reason why Credit Suisse may have felt obliged to pay a dividend could be the performance of their share price. Many shareholders were not satisfied with the performance of the Credit Suisse shares. It seems that the dividend mainly served the purpose of comforting concerned owners.
---
I am aware that the past is no guarantee for the future. Nevertheless, looking back at the past, it is possible to make certain assessments of opportunities and risks. Sustainability of dividend payment refers to the likelihood of dividends to remain the same or even climb higher than in the past. The following aspects may be helpful for such assessments:
Is the business model stable and crisis-resistant?
How high are the net margins?
How many years in succession has the company increased the dividend or paid at least the same amount as in the previous year?
A high dividend yield on the purchaseday of shares is useless if the dividends are completely suspended in the years to come.


Here too, there are exceptions, e. g. if the company has a very high return on equity, i. e. the retained capital can be used more profitably when it is being kept within the company.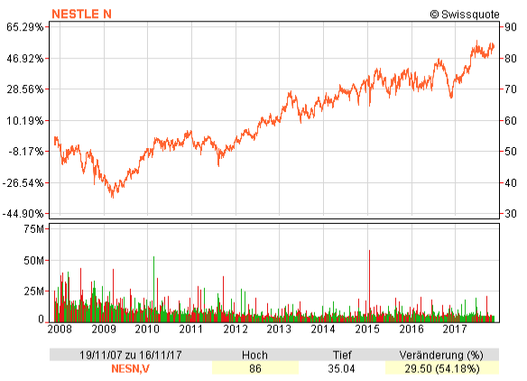 With a dividend yield of 2.73%, Nestlé is positioned in the lower half of SMI shares. However, the following circumstances should be of interest to long-term investors:
Since 1959, Nestlé has succeeded in increasing the dividend or paying at least the same amount as in the previous year. This means that those who have been fortunate enough to own Nestlé shares since 1959 have never had to experience their dividend payments being reduced during the past 57 years.
In 1959, one Nestlé share cost CHF 1.36. This is impressive evidence of the impact of compound interest on long-term investments. The dividend yield for the purchase price of CHF 1.36 and the current dividend of CHF 2.30 alone amounts to more than 69% per year. Provided, that the dividend remains at least the same or even increases in future years. As a nice supplement, the share price gained more than 607% in value. This translates into a growth rate of over 7.5% per year.
---
The lower the price you pay per share, the higher your dividend yield will be, provided the dividend payments are not reduced. One example of this effect is the financial crisis. Share Prices fell drastically between 2007 and 2009. Thsi did not only happened to companies, wich were in trouble. It also happened to shares of companies with crisis-resistant business models. Therefore, it is important to ask the following questions:
Is the high dividend yield due to a low share price?
Does the company have problems that led to a decline in share prices?
If so, are they temporary or are they long-term structural problems?
During the financial crisis, financial institutions' share prices fell and rightly so, as the bankruptcy of Lehman Brothers and the rescue of various financial institutions showed.
However, share prices of food manufacturers also fell during the financial crisis. The reason for that phenomenon was not to be found within these companies themselves. They still had a great business and were earning money. This price decline was more likely due to the general market sentiment.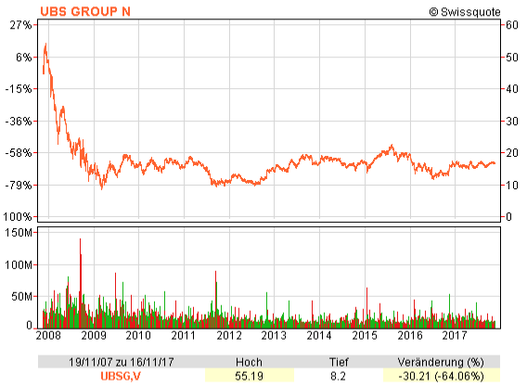 In order to provide a little bit of variety, I chose the other major Swiss bank for this example. At a dividend yield of 3.83% UBS currently ranks among the top five of the SMI's in this regard.
In my article "How to make money with shares" I already wrote about the UBS share price. It is still down from the record high of CHF 75.54 immediately before the financial crisis. Over the past nine years, it has moved sideways and today stands at CHF 16.98. With this low share price, it is not surprising that UBS's dividend yield ranks in the top five of the SMI.
UBS has done a great deal to stabilise both sales and profits. Nevertheless, the company has not yet fully recovered from the financial crisis. In addition, almost every now and then there are fines in the millions and billions, which burden the income statement. These aspects also had an impact on the share price. Such problems cannot be entirely attributed to the difficult market environment. Other banks such as Wells Fargo or
J. P. Morgan Chase suffered drastic price losses in the financial crisis. As the chart below shows, the share prices of these two competitors are now well above their peaks prior to the crash in 2007-2009. UBS's share price on the other han is still more than 344% away from its former record high.
---
Finally, I would like to explain what the payout ratio is all about. The payout ratio shows how much of the profit had to be used for dividend payments. The higher the payout ratio, the less of the profit remains within the company to make further investments, expand its business and thus grow.
There are conditions in which a high payout ratio makes sense. For example, if the company has difficulties in making profitable use of the available capital. Instead of allowing this to flow into shareholders' equity and thus further worsen the return on equity, it may make sense to pass the money on to shareholders.
A low payout ratio in spite of a high dividend yield combined with a high return on equity would be the ideal case. There are few companies that succeed in this feat. Swiss Re, for example, has a relatively low payout ratio of 50.16%. Nevertheless, the dividend yield is 5.22%. The return on equity in the past year was 1029%. This is not excessively high, but also not too low. However, it is not certain whether it can be maintained in the short term. The high amounts of losses resulting from hurricanes and earthquakes in 2017 are likely to have an impact on the income statement and the return on equity.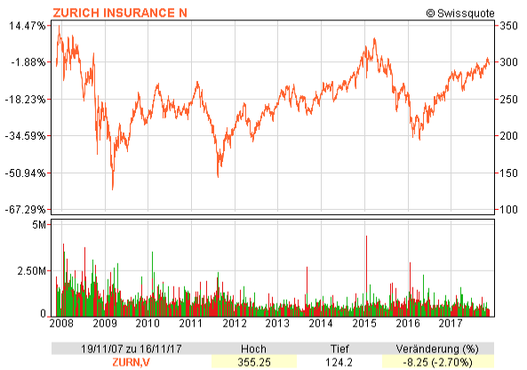 Zurich Insurance Group has made first place in the SMI with a 5.67% dividend yield. However, it achieved this with an equally high payout ratio of more than 80%. This means that less than 20% of the profit remained within the company.
This is not surprising, because the management under CEO Mario Greco measures success among other things, in terms of the return on equity (ROE). ROE is calculated as net profit divided by the equity. If less of the profit were paid out, this would result in the remaining capital flowing into equity. If equity would rise while net profit remained constant, this would automatically reduce the ROE.
From an investor's point of view, it would be more interesting if the ROE were high, because net income has risen and not because shareholders' equity was deliberately kept low. In the short term, the high dividend yield pleased investors and led to an increase in the share price. However, it will be thrilling to watch whether this strategy will also work in the long term.
---
Each company's figures tell their own story. Only looking at one key figure such as dividend yield can lead to high payouts in the short term. However, dividend payments are mostly subject to income tax. In addition, a high dividend yield in the previous year is no guarantee for the future.
Price gains are tax-free for most private investors who are taxable in Switzerland. When selecting the ideal investments, it is therefore important to find the right balance and select those companies that combine as many of the economically positive aspects as possible. As a financial advisor and asset manager, I therefore conduct a thorough fundamental analysis before every investment and audit companies for both their quantitative and qualitative qualities.
I am happy to answer your questions on financial topics. If you are interested in a topic, please send me a short e-mail or contact me directly via the button below. I will be happy to answer your questions personally.
Don't Want to Miss the Next Blog Post?
Follow me on LinkedIn, Xing, Twitter or Facebook.
Sharing is Caring
Share with the following buttons in just a click.
Tags: Earn money with shares, SMI, Swiss Market Index, income from assets, return on equity, dividend yield, dividend yields, dividends SMI, dividend list, Zurich, Zurich Insurance Group, Credit Suisse, Nestle, UBS, Swiss Re, payout ratio, return on equity