---
I can still remember conversations during the last financial crisis: "Things can't go on like this!" "The economy will change fundamentally." "Equity investments are pure speculation." These are just a few examples. How did the stock markets actually develop afterwards and where do we stand today?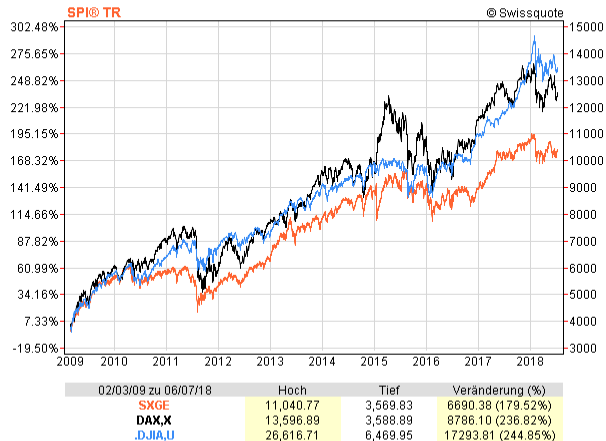 As the chart impressively shows, shares have recovered across the board since the lows of the financial crisis. The prices shown above are not random shares that have performed exceptionally well. These are diversified indices such as the Swiss Performance Index (orange), the German DAX (black) and the American Dow Jones (blue).
There are many reasons to invest in shares. You may want to generate part of your income or pension from shares and dividends. Or you want to start building up a fortune. The basic rules are the same. 
The recovery in the stock markets compensated for the previous losses. It was even possible to achieve high profits averaging 15% to 20% per year. However, not everyone has benefited from this increase in value. The causes are often a mix of psychological and quantitative aspects. Thanks to simple basic rules, equity investments can pay off if they are consistently implemented.
As a value investor, financial advisor and asset manager, my daily task is to find profitable investments in the market. In this blog post I give some insights and tips which successful investors use.
---
What do emotions have to do with investments? A whole lot! When investing, people often stand in their own way with emotions such as greed and fear. A share, on the other hand, is completely free of emotion. They don't know they' ve just been bought or sold. As the following example shows, a stock doesn't care a whole lot who owns it.
Many were tempted by their greed and in 2007, for example, buying UBS shares at CHF 70 or even above. The fact that the share price had almost tripled since 2003 was often sufficient as a buying argument. Thus, shares were purchased based on pure gut feeling and without any form of analysis. What followed can be seen in the diagram below. The financial crisis struck with merciless hardship and led to high losses.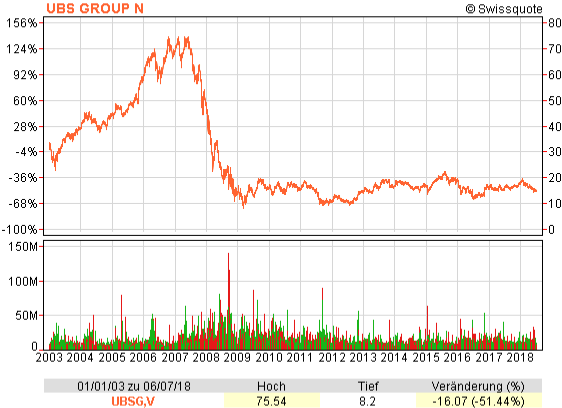 The share price fell 89% from its high of CHF 75.54 to its low of CHF 8.20. In other words, it would take an incredible 821% to return from CHF 8.20 to CHF 75.54.
I remember a newspaper advertisement from that time. In 2009, an underwear manufacturer had the idea of offering underpants for UBS shares via an ad. Even if it was probably a PR gag, financially this would have been one of the smartest deals. On the one hand, the production price of the underpants on offer was probably well below CHF 8.20 per UBS share. On the other hand, this offer was valid at the time of the lowest share price. 
Despite the 2009 low of CHF 8.20 for UBS shares, greed had given way to fear. Hardly anyone dared to buy UBS shares at this price. Already during the same year there was the opportunity to realize a profit of almost 140% at CHF 19.65. Since then, however, the share price has ranged between CHF 9.34 and CHF 22.57 for almost nine years.
---
Greed led investors to jump on an already very fast train. Even before the collapse of the share price, however, the media had already reported problems in the American real estate market.
Fear ensured that small shareholders in particular did not dare to invest at the lowest prices. The media were no help here either, especially since hardly any newspaper would have dared to recommend buying shares in early 2009. 
It's easy to analyze the past and act as a schoolmaster. That's why I would like to share three pieces of advice that help me as an asset manager and perhaps might also help you to invest:
When investing you should reflect and control your own emotions
Or as the legendary investor Warren Buffett put it: "Be fearful when others are greedy and greedy when others are fearful."


A strong anchor helps to survive the storm
Such an anchor is, for example, a strategy with clearly defined qualitative and quantitative criteria for buying and selling shares.


There is no way around a fundamental analysis
Before making any investment, you must first do your homework.
This means that one should at least look at the figures of the last ten years of a company before investing.
I am happy to answer questions on financial topics. If you are interested in a topic, simply send me a short e-mail or contact me directly using the button below. I will answer your questions personally.
Don't Want to Miss the Next Blog Post?
Follow me on LinkedIn, Xing, Twitter or Facebook.
Sharing is Caring
Could this article be of interest to someone in your network?
Share it with the following buttons in just a few clicks.
Tags: Earn money with shares, income from assets, investing, analysing and controlling emotions, building up assets