While the stock market in 2016 was in many places described as a "one year to forget", the year 2017 brought new record highs. These new records brought high profits for those who had previously bought securities at favourable prices. So what does the stock market hold for 2018? Until now it went the same way. It started with new records. But at which levels will we be one year from now?
---
As there was hardly any money to be made on the capital markets except for equities, this resulted in a large amount of capital flowing into the stock markets. Prices have risen accordingly. Due to low interest rates and slightly rising inflation, it is quite possible that share prices will continue to rise in 2018. At least they have already done so in the first few weeks. Due to high valuations, it may pay off to reduce the proportion of equities and increase liquidity in order to buy back at more favourable prices during price corrections.
So-called Growth Stocks in particular have already risen significantly and the risk of disappointment is high. In the area of Value Stocks, however, there are still opportunities to buy at reasonable or even low prices.


Disclaimer
I advise you to do your own research before investing. Alternatively, this can be delegated to an expert. My analysis should not be understood as a recommendation to buy, sell or hold.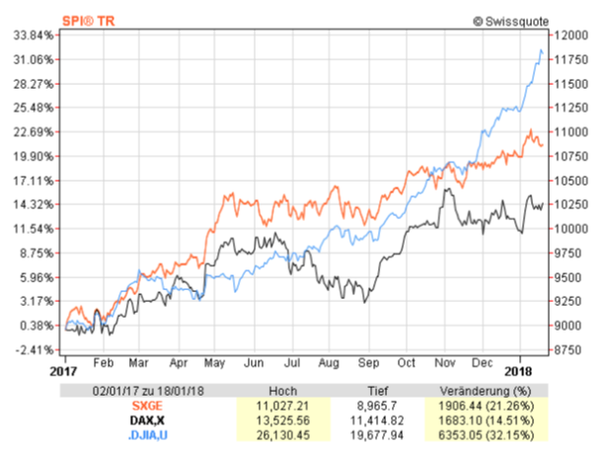 ---
The Swatch Group is one of my favourite stocks since 2016. After the high of CHF 606.50 on 28 November 2013, the share price plummeted to CHF 246.20 by the 2nd of August 2016 and thus got my attention. With several purchases the share made it into the portfolio at an average price of CHF 274.10. The decline in share price was a result of previous sales and profit warnings. This happened despite the fact that the Swatch Group is a solid company with a very attractive net margin. In addition, with a market share of over 19 %, the Swatch Group is still the world's largest watchmaker and, with Omega, Longines and Tissot, owns three of seven Swiss brands, with sales of more than one billion Swiss francs. The share price has already recovered considerably. Today it amounts to CHF 407.9 or 65.7 % above the low prices of August 2016. Although the share price could still continue to rise, the Swatch Group shares are no longer a bargain.
---
The situation is different with Swiss Re shares. Management seems to have learnt the lessons of the financial crisis. The dividend yield amounts to more than 5.1%, and Swiss Re is also shows a solid return on equity, with a Price-Earnings Ratio of around 11.5 and a Price/Book Ratio of 0.90, which is rather favourable. Nevertheless, in 2017, the stock hardly made any progress. The hurricane season, earthquakes in Mexico and wildfires in California have had a negative impact. The positive effect for the reinsurance industry is that some competitors are already withdrawing from the market as a result. Hedge Funds that tried to compete with traditional reinsurance companies have incurred high losses. As a result, they are already withdrawing from the active reinsurance business. This could lead to a recovery of the margins in the reinsurance business, which have recently come under pressure. Another positive effect is that such Hedge Funds are increasingly buying shares from reinsurance companies instead of offering reinsurance solutions themselves. Whether this will be reflected in the share price in 2018 depends not only on the overall market, but also on a normalisation of losses and the development of margins.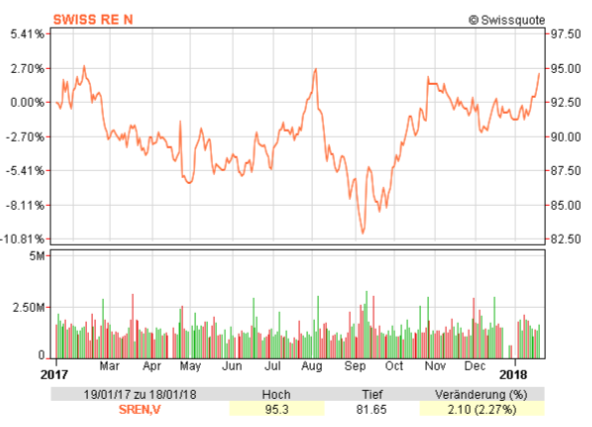 ---
Despite high prices in the stock market, it is almost always possible to find companies of good quality and profitability that are rated favorably and show financial stability. The higher the overall market is rising, the more important it becomes to choose carefully. Fundamental analyses and a good balance between the different asset classes allow taking advantage. With patience and foresight, the return prospects remain intact.
As an independent financial expert and asset manager, I am happy to answer individual questions. Please do not hesitate to contact me. In this sense, I wish you a successful year 2018.
Don't Want to Miss the Next Blog Post?
Follow me on LinkedIn, Xing, Twitter or Facebook.
Sharing is Caring
Share with the following buttons in just a click.
Tags: Asset management, financial consulting, value investing, earning money with shares, asset strategy, investment strategy, income from assets, earning money, shares, investing, money, building assets, asset development, asset growth, investment strategy, investment horizon, stock market year 2018