The swiss pension system consists of three pillars. Whereas the third is voluntary. In addition to being a retirement planning solution it also offers attractive tax benefits. Within pillar 3a solutions there are a multitude of providers and strategies. A comparison is worthwhile. With the right choice not only taxes can be saved, but thousands of francs in costs and fees. With this independent analysis, you will hopefully be able to make the best choice for your individual needs.
---
In principle, there are three ways to pay into Pillar 3a: Savings Accounts, Investment Plans and Insurance Solutions. Which of these three solutions is ideal for you depends essentially on your indiviual situation, future plans and wishes. Below are some examples of situations in which the respective solutions may make sense.
A savings account is especially ideal if a payout is imminent, e. g. for:
Residential home ownership
Morgage amortisation
Self-employment
Buying into a pension fund or retirement
Emigration from Switzerland
An investment plan may pay off under the following circumstances:
When you have a long investment horizon
If you plan to make continuous payments 
As long as there isn't an imminent payout
Focus on asset growth
Insurance solutions are expensive in comparison. They can make sense for:
Protection of the immediate family (spouse and children) in the event of a fatality
Disability risk insurance
Indirect amortization of a mortgage of residential homes
There are multiple providers for each of the three solutions. They compete with one another and the conditions offered may vary considerably. Every pension solution has its advantages and disadvantages. The following illustration provides you with an initial overview.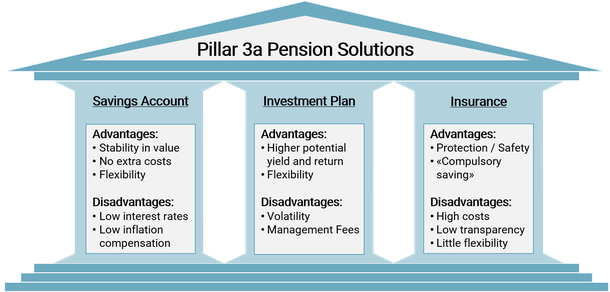 Pension solutions often have a long duration of 30 or more years from the signing of the contract to payment. This means that even small differences in interest rates or fees can have a major impact on your assets. That's the reason I searched for some of the most attractive conditions which I could currently find.
---
The comparison of savings accounts is very simple. There are only a few factors that are relevant from a financial point of view:
How high is the interest rate?
What is the level of inflation?
Is there a positive return on investment (ROI)?
In order to calculate the net ROI, the current inflation rate of 0.52% (until November 2017) has to be deducted from offered interest rates.
| | | |
| --- | --- | --- |
| Providers | Interest Rate | ROI |
| Banca dello Stato del Cantone Ticino | 0.75% | 0.23% |
| Credit Agricole | 0.70% | 0.18% |
| WIR Bank | 0.60% | 0.08% |
| Bank CIC (Schweiz) | 0.55% | 0.03% |
| Bank Sarasin & Cie | 0.00% | -0.52%  |
I limited it down to those providers who still offer a positive ROI. For comparison, the lowest offer is also shown. At an interest rate of 0.00%, a loss of purchasing power or a ROI of -0.52% applies.
If a Pillar 3a payout is due within the next five years, an interest account is perfectly reasonable. I recommend that you pay particular attention to the following factors before selecting:
Interest rate
Are there any requirements set by the provider?
Does the provider charge fees for the transfer or termination?
There are plenty of providers who do not have any special requirements for opening a Pillar 3a interest account and who are free of charge for both transfer and termination.
---
The comparison of investment solutions is already somewhat more complex. The following factors are crucial:
Active or passive fund management
Management Fees
Product costs
Issuance and redemption fees
Investment strategies
With actively managed funds, an investment team deals with the purchase/sale of securities. This effort has to be paid by the customer. As a result, fees for actively managed funds are usually significantly higher than those charged for passively managed funds, often ranging from 1.5% to 2%.
In the case of passively managed funds, the first step is usually to determine in which asset classes (equities, bonds, real estate, commodities, liquidity) and to what percentage assets should be invested. The desired strategy is then implemented with index funds. The cost of passive investment strategies is considerably lower and generally ranges from 0.5% to 1%. Nevertheless, there are considerable differences, as you can see in the following table. For the comparison, similar strategies with an equity exposure between 40% and 50% were chosen.
Provider
Total Cost
Management
Product
Issuance
Redemption
VIAC
Global 40
 0.30%
0.52%*
inkl.**
0.00%
0.00%
BKB Swisscanto
BVG 3 Index 45 R
0.86%
0.50%
0.36%*
0.22%
0.02%
VZ Vermögens-
Zentrum
0.88%
0.68*
0.20%*
0.09%
0.01%
Credit Suisse
CSA Mixta BVG Index 45
0.90%
0.78%
0.18%*
0.16%
0.05%
Postfinance
Pensio 45
0.90%
inkl.**
0.90%
0.00%
0.00%
*Accrued only on invested capital, not on liquidity
**Costs already included in total costs
As the list shows, it is not as easy to compare investment solutions. In addition to Management Fees, you will often find product costs, as well as issuing and redemption fees.


The low overall costs of VIAC are impressive. Since the end of November 2017, the start-up company VIAC has been stirring up the market for Pillar 3a investments. VIAC's favourable total costs are achieved as follows:
The management fees of 0.52% are only charged to the invested capital (e. g. shares, real estate, commodities).
Currently VIAC does not invest in bonds. This leads to a liquidity ratio of 47% for the Global 40 strategy.
Liquidity is not subject to the management fee of 0.52%, but rather to an interest rate of 0.30% paid by WIR Bank.
In addition, Credit Suisse serves as the custodian bank for securities and investment products. As a result, Credit Suisse's index funds hardly charge any additional product costs (Total Expense Ratio).
This results in total costs of 0.30% for the Global 40 strategy. Indeed, this is a novelty. With all other solutions, you not only pay management fees on invested capital but also on liquidity. For example, a comparison of the total cost of Credit Suisse's in-house solution with that of VIAC reveals a cost discrepancy of 0.60% per year. This doesn't seem like much. With an investment period of 35 years, however, this makes a difference of more than 23% due to compound interest not even taking into account the issue and redemption premium of Credit Suisse solutions.
If your investment horizon for your Pillar 3a capital is long enough (at least 5 years), an investment solution can pay off. For the selection of the provider I would recommend the following:
Pay attention to total costs
(administration, product (TER), issuance and redemption).
Choose a strategy with an equity component, which allows you to sleep well even during a temporary stock market crisis.
Make regular payments, for example on a monthly basis. This allows you to benefit from the cost average effect, which provides better long-term returns.
---
Pillar 3a insurance solutions in the form of mixed life insurance offer the following advantages:
insurance in case of invalidity
Financial security in the event of fatality
A current calculation example:
Investment period of 35 years
annual payments of CHF 6,768.00
Capital in the event of survival or fatality
3 months waiting period for premium exemption in case of disability
Provider: Helvetia
Anyone who pays CHF 6'768.00 per year for 35 years has paid a total of CHF 236'880.00 into life insurance in the event of maturity. In return one will be covered against the mentioned financial risks (disability and death) during the entire duration of the contract. If the insured events do not occur, the following payments will be made after 35 years:
Guaranteed payout in the event of survival / fatality amounts to CHF 197'929.00
Projected profit balance amounts to CHF 80'865.00
In the above-mentioned example, insurance coverage comes at a cost of CHF 38'951.00 or a total loss of 16.44% respectively -0.52% per year. If the above-mentioned (non-guaranteed) projected profit balance is paid out, this would result in a return of 0.47% per year.
The return on a Pillar 3a insurance solution is rather low. Mixed life insurance providers now offer a technical interest rate of around 0.25%. Administrative fees and commissions are deducted from this amount. The insurance premium must also be deducted from the amount paid in. The remaining part is invested, the product costs and yield developments are often not transparent to outsiders and customers.
Personally, I am least convinced of mixed life insurances. They are often sold to very young people who do not have a spouse, children or a mortgage that need to be provided for. An objective comparison between the three pension solutions often does not take place because the consultants earn high commissions with each sale of a mixed life insurance plan. A comparison is usually made at most between different mixed life insurance policies.
Should you actually wish to cover the risks in the event of disability or fatality, I recommend a separate life insurance policy rather than a mixed Pillar 3a policy. This gives you maximum transparency:
You know exactly what amount you pay for the insurance coverage.
You can still benefit from the tax advantage by paying into a Pillar 3a interest account or a investment solution.
You remain more flexible if, for example, you do not want to or cannot make a deposit in one single year.
---
All three pillar 3a solutions are legitimate. However, if you have chosen one of the solutions, a comparison is worthwhile:
Look at the interest rates
Compare the costs
Ask for clarifications and remain persistent in case of doubt
As an independent financial advisor and asset manager, I am happy to answer your questions regarding financial topics. If you are interested in a topic, please send me a short e-mail or contact me directly via the button below. I will answer your questions personally.
Don't Want to Miss the Next Blog Post?
Follow me on LinkedIn, Xing, Twitter or Facebook.
Sharing is Caring
Share with the following buttons in just a click.
Tags: Credit Suisse, Pillar 3a, retirement solutions, retirement account, retirement accounts, securities solution, interest comparison, life insurance, retirement provision, management fees, total expense ratio, TER, interest account, securities, insurance, Banca dello Stato del Cantone Ticino, Credit Agricole, WIR Bank, Bank CIC (Switzerland), Bank Sarasin & Cie, VIAC, BKB, Basler Kantonalbank, Swisscanto, VZ Vermögenszentrum, CSA Mixta BVG Index 45, Postfinance, Helvetia, Surplus assets